Fiverr is the go to website for your freelance gigs. If you would like to live the dream of a digital nomad, Fiverr is the platform you need to get on. Become a freelancer or hire freelancers for your projects!
People who sell their services come from all sorts of professions. From accountants to web designers to video animators, there's so much win on Fiverr.
Fiverr provides you an opportunity to showcase your talent to the world. You are no longer confined to your local markets. The world is your oyster!
Buyer
As a buyer, you can browse through thousands of freelancers and hire the one that best suits your needs. Select from basic, standard and premium plans. If you would like to get a little teaser on the kind of work that gets done on Fiverr, try out the basic plans first. Many freelancers offer these plans at very low prices, ranging between $5 to $50.
Basic plans may not necessarily do justice to a freelancers' skills. If you need additional help, you can expect to hire a professional on Fiverr who delivers quality work. The premium plans are costly but more money means higher quality.
If there are defects in the product or shoddy work, you may raise your concerns with Fiverr Resolution Center which aims to solve the issue amicably without any unnecessary cancellations.
Seller
As a seller, Fiverr guides you seamlessly through their application process. Set up basic, standard and premium price plans for your services, market yourself professionally. It would be an added bonus if you can add in your educational qualifications or be certified as a Fiverr Pro Verified. Start winning gigs for yourselves!
Fiverr seems like a really economical place to get services for only $5. As you go about setting your price points, do not undervalue your services. If you are a highly adept worker, charge a fee that is commensurate with your quality and expertise. Setting really cheap prices, just cheapens the whole freelancer network.
Connect Paypal or your bank account to receive payments from Fiverr. Fiverr takes a 20% commission from your earnings.
Fiverr Revenue card – you may sign up for a card run by payoneer and mastercard. You can directly withdraw your Fiverr earnings with the card and make purchases.
Generate custom pop outs and badges to market your services on other platforms like Facebook or WordPress.
UX
Track all your orders and gigs under one single dashboard. Access to analytics tools gives you insight on your performance.
Content
Fiverr has loads of tutorials, courses and blog posts that enhance your selling or buying experience. Connect with other freelancers on forums and community pages.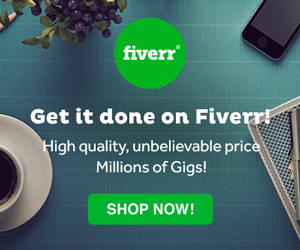 Click this link and get 20% off your first purchase
http://www.fiverr.com/s2/44b35ff747
We earn an affiliate commission from the links in this post. 
All information correct as of date of publishing.